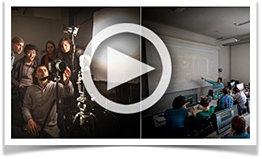 >> Watch 2min video montage!
Filmakademie Workshop 2013
Location: Ludwigsburg, Germany
Arkell & Christos travelled to the Filmakademie to give a hands-on 3-day workshop on HDRI light capture & physically plausible shading.
Day 1 AM: Image capture in vfx, Shading paradigms in vfx
Day 1 PM: Practical capture, Equipment use/setup, Lighting setup capture
Day 2 AM: Making Light maps, Making HDRIs (Photoshop+RV), Stitching maps (PtguiPro+RV), Gray/Color correction (Nuke+RV)
Day 2 PM: Rendering with Light maps, Intro to RMS shaders: Envlight (dome), Sampling techniques, Energy Conservation & Normalized BRDF's
Day 3 AM: More EnvLight: Importance Sampling, Area Lights
Day 3 PM: Studio/Outdoor session, Practical capture II, More Lighting setup capture/ Hiresolution capture
Day 4 AM: Other RMS shaders: GPSurface, Matte, RMSGlass (transparent objects, refraction), Environment Camera shader
Day 4 PM: Creative stitching/Tonemaping of HDRIs

Special thanks to Arkel Rasiah, Volker Helzle, the filmakademie.